When I launched the bloggy version of this site back in 2004, I figured I would be writing three kinds of screeds: "lion" screeds about wemics, "click" screeds about things online, and "book" screeds about Dungeons and Dragons. Well, at last, my 97th book screed is true to its name! It is about my new book.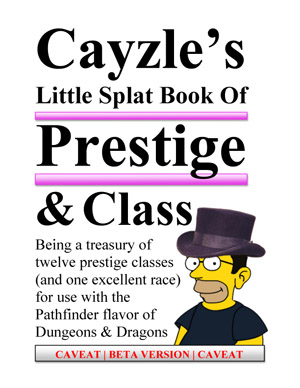 Click above to download the FREE PDF!
Okay, granted, it's a PDF book, maybe an eBook, and definitely certain to never be a real bound paper book. It's released under a creative commons license, and I'll never make a penny off it. And at only 30,000 words, it's really more in the novella range -- too short for a real book. But it's all my own!
It is a compendium of 12 prestige classes I've created over the years, most first published on this site. Plus rules for playing liontaurs in Pathfinder, because no splat book is complete without liontaur rules. Many of the PrCs in the book were created for Third Edition D&D, but I've given each a real overhaul and brought it up to snuff for Pathfinder play. Well, I hope I have ... I'm playtesting it as thoroughly as I can before the final version is released in August.
Anyway, if you would like to read more about it, head on over to my brand-spanking-new Splat Book Page. Download and Enjoy!