A basilica in Tuscany -- named
San Michele en Foro
, located in Tuscany, Lucca, Italy -- has a sagittary standing guard above the front door. The basilica's main entrance is also guarded by a mermaid with a bifurcated tail and several other monsters and grotesques. The basilica's construction dates to 1070, although the facade was carved in the 13th century.
Here's the plaza in front of the basilica (
from Flickr photographer Anton Osolev
)
Here's the top of the front door looking up (
from Flickr photographer Lauren Everett
)
Here's the lintel above the main door (
from Flickr photographer johnevigar
)
Here's a close-up, straight on (
from Flickr photographer KotomiCreations
)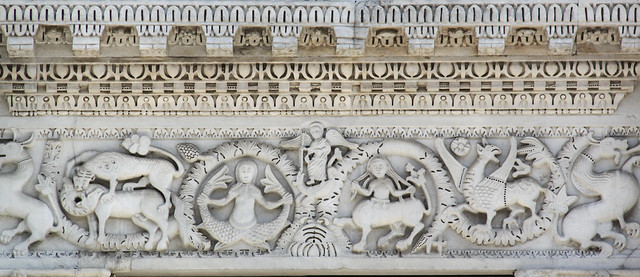 And here's our beautiful wemic! (
from the website of the Associazione Culturale Italia Medievale
)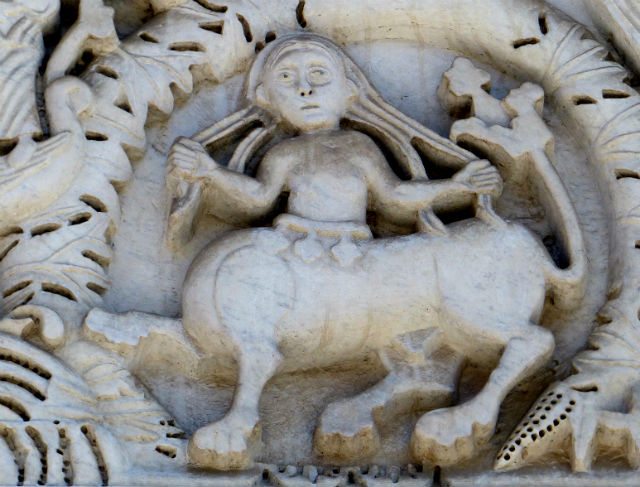 Click here for the full-size version of that photo
, showing our Italian wemic in all her glory. Note the three toes of the paws -- clearly not hooves. Look at the ornamental belt, with its suggestion of a mane around the waist. Look at that glorious feline tail, standing up and ending in a
floral burst
. An excellent example of a medieval liontaur!