The Metropolitan Museum of Art in New York City is an amazing place. I went to its Cloisters branch years ago, and it turned me on to the existence of feline sagittaries and grotesques. I recently visited the main location in search of liontaurs and liontaur-adjacent art. Here's what I found.
Here is your faithful wemic fan outside the Met, c. 2020. Every person, in and out, was wearing a mask! New Yorkers know from COVID-19!

These Egyptian statues of the goddess Sakhmet, c. 1,375 BC. The feline goddess of violence, unexpected disaster, and disease has the head of a lioness. Note that that's how the Met defines her spheres; Wikipedia describes her as the goddess of war and healing!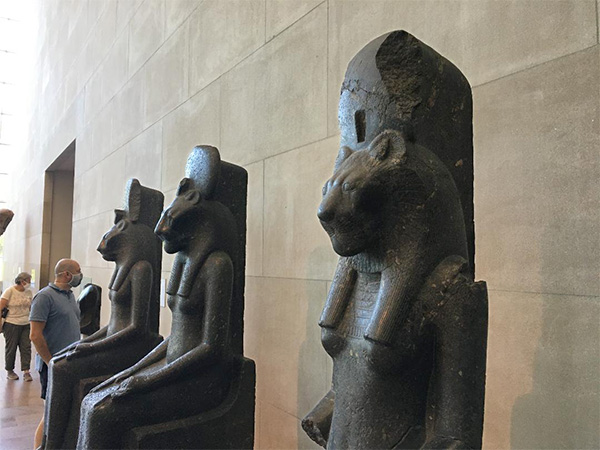 The Sphinx of King Senwosret III, c. 1,850 BC.

The granite Sphinx of Hatshepsut, c. 1,475 BC. She was a great queen, but later rulers hated that and destroyed her statues. This is a restoration.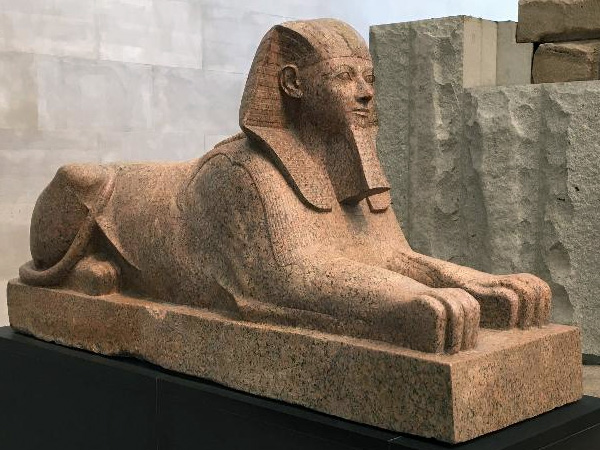 This one is the Sphinx of Amenhotep II, c. 1,425 BC. I love how he is striding forward, tromping on people. There's another sphinx of him, a statue, at the Met.

This 3,400-year-old blue beauty is the Sphinx of Amenhotep III, c. 1,375 BC. He was known as a lion hunter.

I have a few more Egyptian sphinxes, here, here, and here.
Naturally, I was very excited about visiting the Ancient Assyrian art, hoping to catch a true liontaur ("urmahlullu") in the wild, so to speak. Alas the entire Ancient Near East wing was closed. That will need to wait for another visit. :-(
Moving to Cyprus, here are two sphinxes on the capital (topper) of a column, dating to the 5th Century BC.

And from Greece, at about the same time, here's another sphinx column capital, c. 530 BC. This one marked the grave of a youth and a little girl. In ancient Greece, sphinxes were female spirits who protected the dead, says the Met. Also from Greece, c. 625 BC, here's a lovely pair of sphinxes on a large bowl.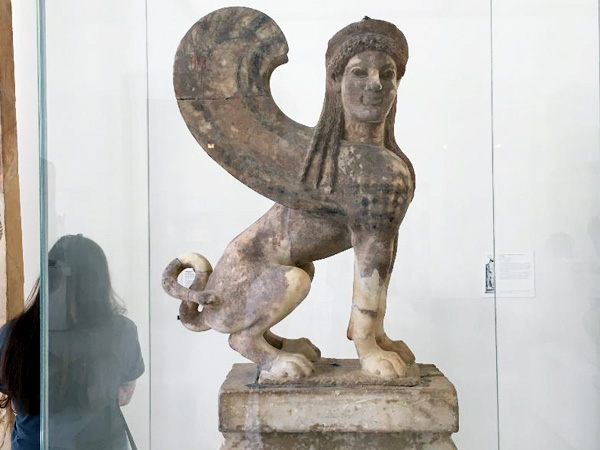 Of course, you may think sphinxes are nice and all, but what about wemics? I only found one demi-wemic on this trip to the Met, and I found him too atop a column. I've blogged before about how medieval church stonemasons carved sagittaries into the capitals and higher nooks and crannies of cathedrals. In that post, I posted a photo of a sagittary from the Met. On this trip, I found that same fellow, and alas, he is not as pure a leonine sagittary as I would wish. Here, take a look:
Here he is in all his glory: Foreleg hooves, equine tail, and lion's claws behind!.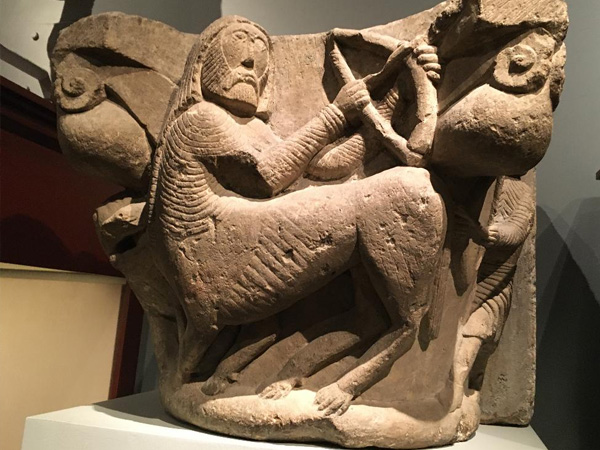 Hard to see, right? Here, take a close look at the feet..

Compare with another capital, evidently by the same artist, of a man wrestling a lion. See, four paws.

I'm not going to bother showing it, but the sagittary has a horse tail, while the lion, a lion tail. So this sagitarry is only part lion.