Around 10,000 BC, humans were inventing agriculture and founding city-states in Mesopotamia. By about 2,500 BC, Ancient Assyria was something like a city state, bound by a common mythology, writing, and governance. Most of the urmahlullu I have found date to something like this era, say in the 1,300 BC range.
Well, from about 900 BC to 600 BC, there was a new state located north and west of Assyria, in what is now Eastern Anatolia, founded by people who may have been related to modern Armenians. It was a nation called Urartu, which may be related linguistically to "Ararat", the mountain on which Noah's ark landed. Urartu surrounds Mt. Ararat. The nation was also called the Kingdom of Ven, after a large lake also in the nation. Here are a lot of links for more info on Urartu. For more, check out the Wikipedia articles on Urartu and Urartu art.
Urartu borrowed heavily from Assyria in much of its culture. It used cuneiform writing, for example, and it inherited a tradition of lion-centaurs from its neighbor. Here are two different photos of the same piece of art, currently housed in the Hermitage Museum in St. Petersburg, Russia. You can click on the top one to embiggen.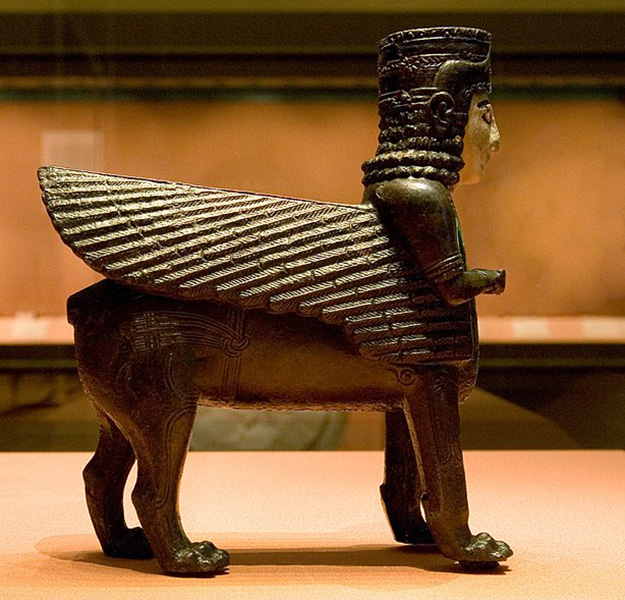 My source for the red background photo is this deep survey of sphinxes in antiquity. That source has the following to say:
ST.M. NR. AN. 12 --
FIGURE WINGED LION-CENTAUR
TYPE: Artefact/Figure
PRODUCTION PLACE: Turkey
FIND SPOT: Turkey/Toprakkale
DATE/PERIOD: 1st Mill. BC/8th c. BC Urartian
DESCRIPTION:
A small standing winged composite creature, with a lion-body, a human head, human arms and human shoulders. It was originally part either of a throne belonging to one of the rulers of Urartu or of a ritual seat.
INFORMATION:
Barnett 1954: 13-14 nr. 4 + Pl. 3 fig. 2.
Demisch 1977: 45 + fig. 103.
MUSEUM
SAINT PETERSBURG – HERMITAGE MUSEUM
MUSEUM NUMBER IВ-16002
MATERIAL/TECHNIQUE Bronze, stone
SIZE 16 cm
Both of the photos above are of the same work of art, a decoration for a throne, sources say. But in my digging, I found another Urartian lion-centaur. The best resolution I could find was not great, but take a look:
Note the remarkable resemblance to the other one. Same pose, with arms crossed. Same flat helmet. Same ears and horns curving the same way. I wish I knew more about the mythology of this figure. Here's a source that calls this the image of a god (scroll down), but with no other information. Here's a Wikipedia article of the Fortress of Erebuni, where sources say this statue is located.